Behind The Vines
The closest vineyard to the sea in Australia, the Lost Buoy vines grow within 50 meters of the cliff edge, high above the rolling waves of the Great Southern Ocean. The maritime influence refreshes the vines to create a naturally healthy growing environment.
The Lost Buoy vineyard is planted with eight acres of Grenache and seven acres of Shiraz vines. With an average age of 15 years, the vines' roots are anchored deep into the Pliocene Hallett Cove Sandstone and Burnham Limestone of the cliff head, bringing an intricate minerality to the wines. The elemental growing conditions and shallow soils produce a humble yield of perfectly balanced fruit, on average just 1.5 to 2 tonnes per acre.
Winemaker, Matt O'Leary, is on deck to steer the fruit through the winemaking process, producing a fleet of wines to showcase and respect the distinctive characters of the grapes and where they are grown.
Now that the Lost Buoy vineyard has been found again, the vines speak clearly of the ocean they overlook, producing wines with elegance, vitality, crisp maritime acidity and earthy mineral complexity.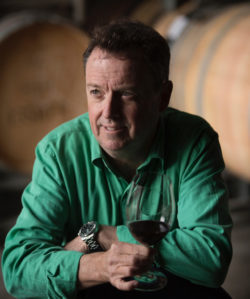 The Crew
Captain of the ship, Chris Insanally, roped together a small group of the most experienced, extraordinary people to form Lost Buoy Wines. Each member brings unique skills to the 'ship', which allow Lost Buoy to uncover the true potential of these distinctive vines, resulting in a profound collection of boutique wines.